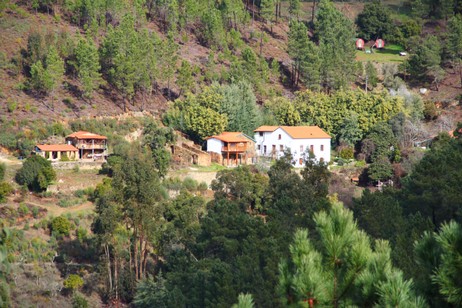 Join us at the Yoga Evolution Retreat Center deep in the heart of the beautiful countryside of central Portugal. Established in 2008 the retreat center is set in 13 acres of a rural Portuguese estate with breath taking views across the valleys of this unspoilt part of the earth.
Peter & Sue are both certified senior yoga teachers with the yoga alliance professionals UK and have trained/training in Shamanism, Homeopathy, Mindfulness, astrology, therapeutic application of yoga & mindfulness and other deep healing practices with teachers from all over the world. They hold many retreats from Ashtanga, Yin, Hatha, Dynamic, shamanic and retreats just for women throughout the year.
With the fast pace of life we find ourselves becoming more and more fragmented and leave our energy in lots of different places as we move through life missing many moments to come into the now. Our retreats do not just focus on helping people regain their energy and relax, that can happen naturally when you remove yourself from your stresses of life but sometimes not and we may need to do a little more work to find that space. When you are on retreat with us we like to help you find the aspects of your life that are really draining you. Our yoga retreats help you find the fire that burns inside to live life to its fullest and become the power that you already are.
Visit www.yogaevolutionretreats.com to book a retreat. Yoga Types - Dynamic - Yin - Ashtanga - Shamanic - Mindfulness